Rytr Review: Rytr is the best AI writing app on the market. It has a user-friendly interface and it's super easy to use! The content generated by Rytr is high quality too, which means you'll never be disappointed when using this tool as your writing assistant for all of your creative projects from now on. Check Rytr.me now
One of the most difficult challenges in building a successful online business is creating regular content.
I recently tried a few ai copywriting tools to create content for my blogs, and Rytr is one of them.
In this post, I will talk about what is Rytr.me, the pros and cons of Rytr and how this ai copywriter can help you create high-quality content fast with my review.
Let's explore another ai copywriting tool that can make your life easy when it comes to creating content for your blog or website.
Before that let me confess, This content is created by Rytr writing assistant with the author's edit.
What is Rytr.me?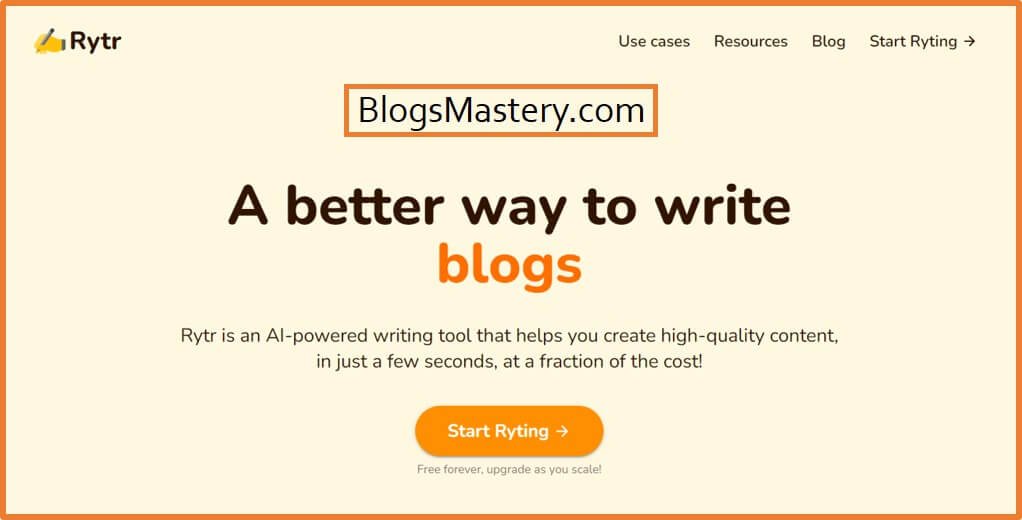 Rytr.me: the ai writing tool that creates high-quality content in minutes.
Rytr offers templates to write creative text and auto-generate texts for you with their AI power by simply tapping on a button.
The Ai tool is mobile-optimized, which means it's accessible from anywhere as long as an internet connection is available.
Professionals such as small and medium businesses make use of this ai software because they need more efficiency than ever before when managing all aspects of their business.
Pros & Cons of Rytr.me AI Writing Assistant
| | |
| --- | --- |
| Things I love about Rytr.me | Things I don't like about Rytr |
| 👍 Easy UI & UX | 👎 Require human intervention |
| 👍 10,000 Free Credits | 👎 Limited Features |
| 👍 High-Quality Content | |
| 👍 Collaboration Options | |
| 👍 Rewards | |
| 👍 21 Content Tones | |
Explore Rytr.me Now
How Rytr.me Can Help Your Business?
The most efficient AI-powered writing assistant software is Rytr.
Powered by artificial intelligence, it's able to conduct all the menial tasks that come with being a writer and editor, such as correcting grammatical errors in your work or creating more engaging content for you from scratch.
Rytr uses machine learning algorithms that are continually updated, so they're always up-to-date on new trends like emoji usage or slang words you might want to add in your copy.
Superpowers of Rytr.me:
Rytr Software provides many useful features, including creating quality content fast.
✉️ Rytr can write sales and marketing emails that get replies

 It can provide ideas and write engaging content for blogs.

 It can generate creative, catchy copies for social media.

 It can write about products, jobs, company profiles, video descriptions

 It can do interesting captions for your Instagram posts.
and much much more…
It can take hours to write just one page of content.
With Rytr, you can get high-quality content written instantly. Start Ryting Now
Rytr.me Pricing Plans 2023
Rytr offers a Free Plan with 10,000 characters per month.
The Premium plan will cost you $29/month, or the annual subscription would be cheaper at only $290 for unlimited use of Rytr's tools and software.
Rytr's Premium Plan is one of the most affordable plans, considering this is the best plan that you can get from the platform.
For just $29 dollars a month – all your content needs will be taken care of without any limits!
Rytr is a comprehensive AI that lets you write and edit your content on the go.
The interface of Rytrs makes it easy to use, whether editing from a phone, laptop or desktop.
With its extensive set of features like automatic article creation and text editor tools, choosing an account with this ai copywriting software will be worth it for any user!
Rytr Free Plan: How to Sign Up for Rytr.me?
Signing up on Rytr.me is the easiest work to do with just a few clicks. Here is the step-by-step process for the Rytr registration process.
Sign Up in 3 Steps at Rytr and start using their free plan.
Step 1: Visit Rytr.me & Click on Start Ryting ->
Step 2: Use Google Account, Facebook Account or Your email ID. I recommend using Google Account.
Step 3: Start creating content
FAQ's about Rytr AI Copywriting Tool
Q1) What is Rytr.me website used for?
Rytr is an AI Writing Assistant that offers a variety of features to help you make your writing more engaging and creative.
These include autocorrect, grammar checker, tone changers for every occasion with adjustable levels so readers know who they're reading from the start – whether it's formal or playful!
The Rytr Sentence format tool helps simplify sentence blocks by replacing periods (or commas) at natural breakpoints with 3 dots (. . .) This allows writers to focus on what matters most: their ideas. Learn more about Rytr features.
Q2) What are the top alternatives for Rytr?
If you are looking for Rytr alternatives then here are the top 5 alternative recommendations to Rytr.me by Blogs Mastery:
Top 5 Best Rytr Alternatives in 2023
I think Jasper is tough competition to Rytr.me, You can also check Jasper AI review.
Overall Rytr AI Copywriter Experience: Rytr.me is one of the most promising AI writing tools I have used so far which is pocket-friendly.
The user interface is one of the simplest to use and generates great value content.
I highly recommend Rytr.me to anyone searching for an affordable AI copywriting tool in 2023.
Go & Explore Rytr.me on your own with 10,000 free credits from Blogs Mastery!
Conclusion for Rytr – AI Copywriter App
There are a lot of great writing tools on the market, but Rytr has something unique to offer.
With just a few clicks, you can create high-quality content that will impress your audience and drive more traffic back to your site!
If you want help getting started creating amazing content right away without paying too much money upfront, click here now!
Let me know if you have any questions related to Rytr.me in the comment section below. Happy Writing!