Do you want to write content that ranks in 2023?
Do you want to create SEO-friendly content?
If yes then you are reading the right post. Make sure you read the complete post as there are great learnings inside this post.
I am sure you know that SEO stands for Search Engine Optimization. And it is a process of working on a website or a blog to rank higher in search engines like Google, and Bing.
SEO writing is one of the most important skills to learn if you want to earn free traffic from search engines.
What is SEO writing (SEO copywriting)?
SEO copywriting is the ultimate writing process of creating keyword-rich and keyword-optimized content that is intended to attract visitors and search engines like Google, and Bing.
Content writing for search engines or say SEO Writing is a precise way of writing content to get recognition from search engines to rank higher for a particular topic or keyword.
For example, I have written this post to rank for the topic "What is SEO writing" and "How to rank content that ranks". So the complete content revolves around these main two topics and related keywords.
Now let's understand why SEO writing is essential for your website?
The main objective of any website or blog is to help human users with a particular problem. This can be done with a product or a service.
Now to describe the product or service you are offering, you need the help of content.
You can take the help of text content, video content or audio content. You are free to choose the medium of content as per your niche.
Here I am taking the help of text form and image form of content to connect with you using this post.
With SEO copywriting you can write content that describes your product or service that your prospects are searching for on search engines.
You as a website owner need people on your website who can engage with your offerings.
SEO writing helps in bringing traffic to your website from search engines with the help of SEO friendly content.
In simple words, you provide valuable content to your visitors on your website and the search engine provides traffic for that content.
If you want to learn SEO copywriting, this is the ultimate guide you can follow and refer to people who want to get into SEO writing.
There are some areas you must need to know while writing content for search engines.
Search engines love fresh, up to date and SEO-friendly content and they feature them on the top.
The search engine thinks, your website content decides how you are helping your visitors, what problem you are solving with your content, and how users are interacting with your content.
If they find everything great they feature your website page in the top 10 for the targeted keyword.
In this post, I will share some essential SEO copywriting factors that I have learned in the last decade.
And this is a part of my blogging journey.
Let me explain to you in detail with this SEO copywriting guide!
How to Write Content For SEO in 2023 & Beyond
Enhance your content writing skills for SEO with these latest seven practical tips from Blogs Mastery.
Topic Selection & Keywords Research
Write For Human Users & Search Engines
Write Great Headlines & Sub-headlines
Write keyword-rich paragraphs
Structure Your Content
Include Media Files like Images, Videos
Include Basic SEO
Now let me explain these SEO writing tips in detail to rank your content on the top.
1. Topic Selection & Keywords Research
This is the topic or keyword that you want to rank on the first page of search engines. I prefer Google.
Selecting the right topic and SEO keywords is the key to show up your content on page 1 of Google.
But how do we choose the right topic and SEO words?
The answer is Keyword Research.
It's most important to do keyword research to choose your next topic and SEO keyphrases as it impacts your rankings.
Your topic needs to be something that people are searching for and at the same time, it must be related to your niche.
For keyword research, you need the help of SEO tools and I recommend these two tools that do wonders when It comes to keyword research.
1. Semrush (Highly Recommended): This is one of the best SEO tools for keyword research and I personally use this.
Semrush offers Keyword Magic Tool which is an easy-to-use keyword research tool that tells you all the keywords you need to make your most profitable SEO article.
You can also check your keyword position rankings for each keyword with the Semrush mobile app. Sign up for a free trial on Semrush to try it for 7-days free.
2. Ubersuggest: My second recommendation is Ubersuggest. This is another great SEO tool that provides complete details about the searched topic or keyword.
Simply visit Ubersuggest and enter your topic or keyword and it produces all the important data you need for keyword research. You can see search volumes, search difficulty and more.
Example of Keyword Research:
Before writing this post, I have done keyword research for my topic which is "What is SEO Copywriting" with the help of Semrush Keyword Magic Tool.
Step 1: I have visited the Semrush KM tool.
Step 2: Entered Topic, chose the country option and hit the Search button. And the result I have got is below.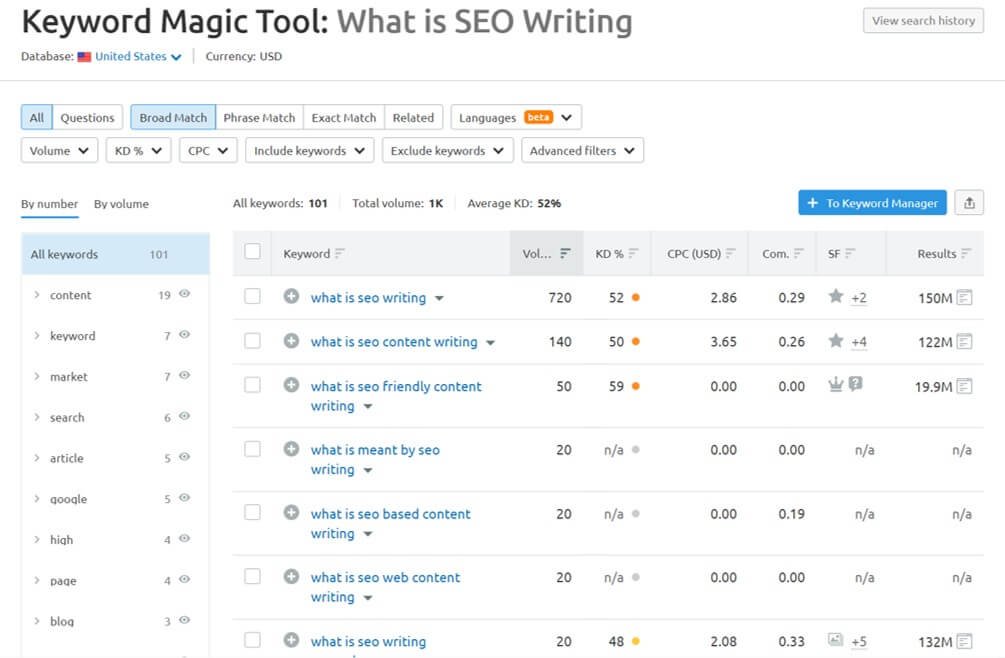 Now I have a clear idea about my topic and the SEO keywords I have to include in this article. Easy, isn't it?
Now let's jump to the second tip!
2. Write For Both – Humans as-well-as Search Engines
This SEO writing tip is not only important but also helps you improve the user experience on your site.
It looks easy enough, yet so many businesses and website owners make content for all the wrong reasons. They completely ignore users and sometimes search engines.
Compose content that supports the interests of your target users or answers their questions related to a specific problem. You can take the help of AI copywriting assistant tools like Jasper.ai or Rytr.me.
You don't need to write just about your product or service: you can create content that is industry-related and there you can promote your product or service.
Bonus Tip: Write SEO-friendly content that is engaging and informative, and include SEO keywords for search engines.
3. Write Great Title, Headlines & Sub-headlines
You can make a big impression with a short text using compelling headlines.
The post title describes search engines and users what your blog post is all about and how it can help the users.
Write titles, headlines and subheadings that are easy to understand, and engaging along with SEO keywords.
Having a snappy title can not only boost your rankings but also improve your website's click-through rate. This means you can attract more visitors from search engines if you have a catchy title and headlines.
This is a creative job, so I take the help of AI writers here.
I use Jasper AI's copywriting tool to create eye-catching titles and headings for my blog posts.
You can check out Jasper AI Review to learn more about Jarvis.
4. Write keyword-rich paragraphs
Make sure you create relevant and keyword-rich paragraphs in your content to let both search engines and your readers know what your content post is all about.
Do not overuse keywords in the content as it may turn into search engine penalties for excessive keyword stuffing. Keep it natural.
Starting your paragraph with the main keyword can be helpful. Use keywords with a thought to win users and SEO.
You can also make use of LSI (latent semantic indexing) keywords while crafting your paragraphs. These LSI key phrases will tell search engines about your post's overall topic.
5. Structure Your Content
Unorganized content is of no use. If search engines and users fail to understand your content then it will be difficult to rank such a piece of content.
Content structuring helps both your readers and search engine to understand the topics covered throughout the content.
Short paragraphs work better than long paragraphs. Split your content into shorter paragraphs with relevant headlines if required to engage your readers.
For search engines, use proper tag hierarchy when using headings and subheadings. H1 comes first, H2 second and so on.
If you want to rank higher then maintain well-structured content.
6. Include Media Files like Images, Videos
People love visual content. Adding images, infographics and video have extra advantages when it comes to ranking in Google.
Add images wherever it makes sense as it can leave a good impact on your readers as well as search engines.
You can also use embedded tweets to make your content piece more engaging.
7. Include Basic SEO
Take care of basic SEO while publishing your content. This includes meta tags, content optimization, internal link building, and image optimization.
Content optimization is the process of optimizing your write-up to make sure that it's visible to search engines.
A deeply optimized content piece ranks better on a search engine page than non-optimized content. Take advantage of the basic on-page technique and rank higher.
Final Thoughts on SEO Writing to Rank Content
Just want to give you one mantra. Always write for your users, keeping search engines in mind.
Just follow this mantra, and you will share page 1 with me;-)
SEO and content writing are important parts of the SEO mystery, so it's important to use the right techniques to ensure your content ranks in the search engines.
If you have any questions or suggestions about SEO Copywriting, Content Writing or How to write content for SEO, feel free to comment below and get answers now!