Is it possible to automate the content writing process using artificial intelligence in 2022?
Yes, It is and if you are looking for the best AI content writing software in 2022, then You've got the right post.
These days, AI content writing tools have gained a lot of attention. To help you choose the best AI writer for your needs, we will analyse the 25 best AI writers out there in the market.
An AI content generator is a powerful solution with the strength of artificial intelligence and machine learning to create content in bulk in the easiest way possible. Read the complete post and Learn more.
List of 25+ Best AI Writers in 2022
Here is a list of the top 25+ recommended AI writers and content writing software and tools.
What is AI Writer?
AI writing assistant or AI Writer is a type of software that provides assistance to copywriters by generating articles and other types of content at scale.
The AI assistant makes sure that they are not wasting time on skillsets they do not have and instead focus on what they do best – creativity and emotions.
These tools are especially helpful for companies that need writers for a specific niche or topic.
25+ Best AI Content Generator Tools For User-Friendly Text In Seconds [2022]
Explore the list of top 25+ best ai writers and copywriting software for effortless content writing experience in 2022.
1. Jarvis AI Copywriting Assistant Tool
Jarvis instantly generates high-quality content for all your copywriting needs.
What is Jarvis AI?
Jarvis.ai is one of the best AI-driven content generation tools that will take your words, phrases, sentences, or even paragraphs and create thousands of variations for you in seconds.
You can generate thousands of words of high-quality content in just seconds! This software allows you to come up with interesting content quicker than ever before without sacrificing quality. Plus, it's integrated with the SEO Surfer tool which helps 100% guarantee SEO-optimized original content that Google likes.
It uses machine learning techniques to write content for your business. It combines human-like writing skills with Artificial Intelligence technology to ensure that your content is engaging, SEO friendly and unique. Read more in our Jarvis.ai review post.
Jarvis.ai Pricing:
There are two plans offered by Jarvis AI, each with a different set of features and pricing structure – Starter and Boss Mode plans.
If you sign up for the Jarvis AI free trial, you can try both plans by writing up to 10,000 words.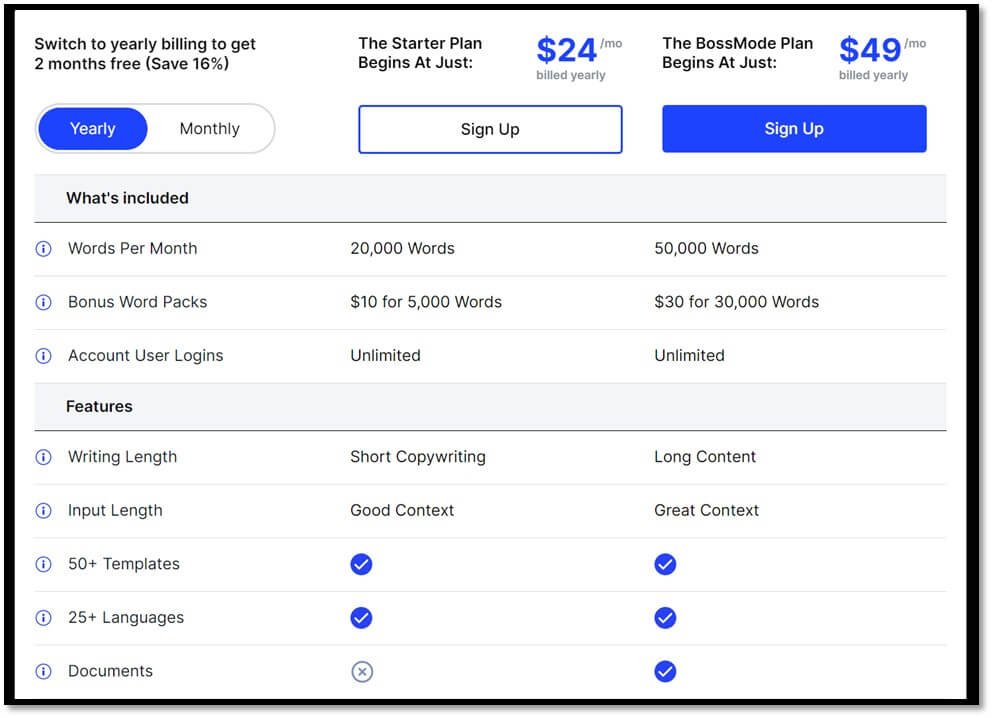 Starter Plan ($24/Month): This plan is best for short-form content and it includes most of the features and offers a great way to get started with AI content writing. There is a 20,000-word limit to the plan, and it is only suitable for short-form content creation.
Boss Mode Plan ($49/Month): If you need to create long articles and blog posts, you should choose this plan. All features and templates are available, and the plan includes unlimited workspace documents and 50,000 words per month.
Learn more about Jarvis.ai Pricing
Who can use Jarvis.ai?
Content Creators
Business Owners
Digital Agencies
SEO Marketers
Why did we pick Jarvis AI?
Save Time & Money
Writing Clever Copy
Original & SEO Friendly Content
Boss Mode Features
End Writer's Block Forever!
Why you should buy Jarvis AI?
Here are the top reasons why you should buy Jarvis.ai in 2022.
Overcome writer's block using AI technology
Speed up content campaigns
It offers over 60 copywriting templates
Connect with like-minded people through an active Facebook community
Verdict: Jarvis is the ultimate copywriting tool. If you want some mind-blowing copy with AI, check out Jarvis.ai now!
You can get 10,000 words of free credit using our special link to test this tool. Click the link below to try Jarvis for free.
2. CopyAI
Copy.ai generates fresh content faster with its automated creativity tools.
What is Copy AI?
Copy.ai is an outstanding copywriting software company that leverages AI to make copywriting easy. It helps you generate copy within seconds and makes your drafts look as authentic as possible.

Thousands of people are being helped by CopyAI, which is built on top of the world's most advanced artificial intelligence language model.
Copy.AI Pricing:
There are three plans offered by Copy AI, each with a different set of features and pricing structure – Free, Pro and Team plans.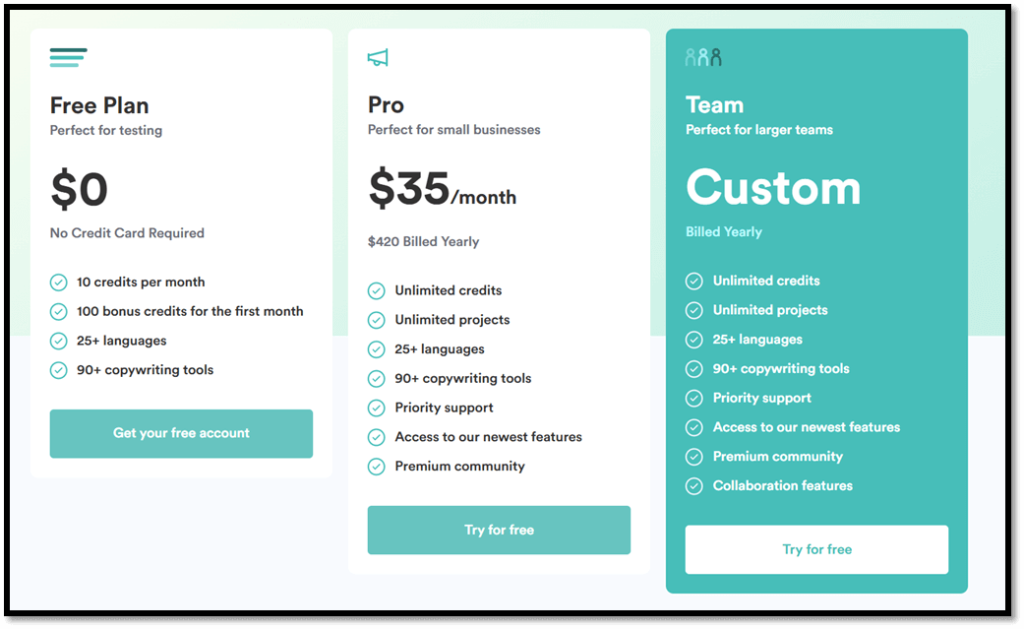 Free Plan ($0): This plan is best for people who want to explore this amazing tool for content writing. You get 10 credits per month.
Pro Plan ($35): This plan is perfect for small and medium businesses. It gives access to all the features and copywriting tools with unlimited credits for content generation. I personally recommend the Pro plan.
Learn more about Copy.ai Pricing
Who can use CopyAI?
Content Writers
Founders
Business Owners
Marketers
Why did we pick Copy.ai?
Free Plan
Save Time & Money
90+ Copywriting Tools
Faster, Fresher, Better Copy
Trusted by 500,000+ Marketers
Why you should buy Copy AI?
Here are some reasons why you should buy Copy.ai software.
Overcome writer's block using AI
Create fresh content superfast
It offers over 90+ copywriting templates
100 free content credits when you sign up
Verdict: Overall It's super intuitive to use, and delivers pretty useful content outputs. It can generate any type of content using 90+ tools inside the dashboard.
You can find all the important links in this blog post. Learn more about each copywriting tool and select the one which meets your content demands. You can also check the AI content writing guide to learn more.