Are you looking for a reliable guide on Ahrefs Vs SEMrush in 2021?
Well yes, and you've landed to the right post where you will find the answer to the question that which SEO tool is the best, Ahref or SEMrush.
In the modern internet world, search engine optimization or SEO has much attention to companies, individuals and others compete with their business website online.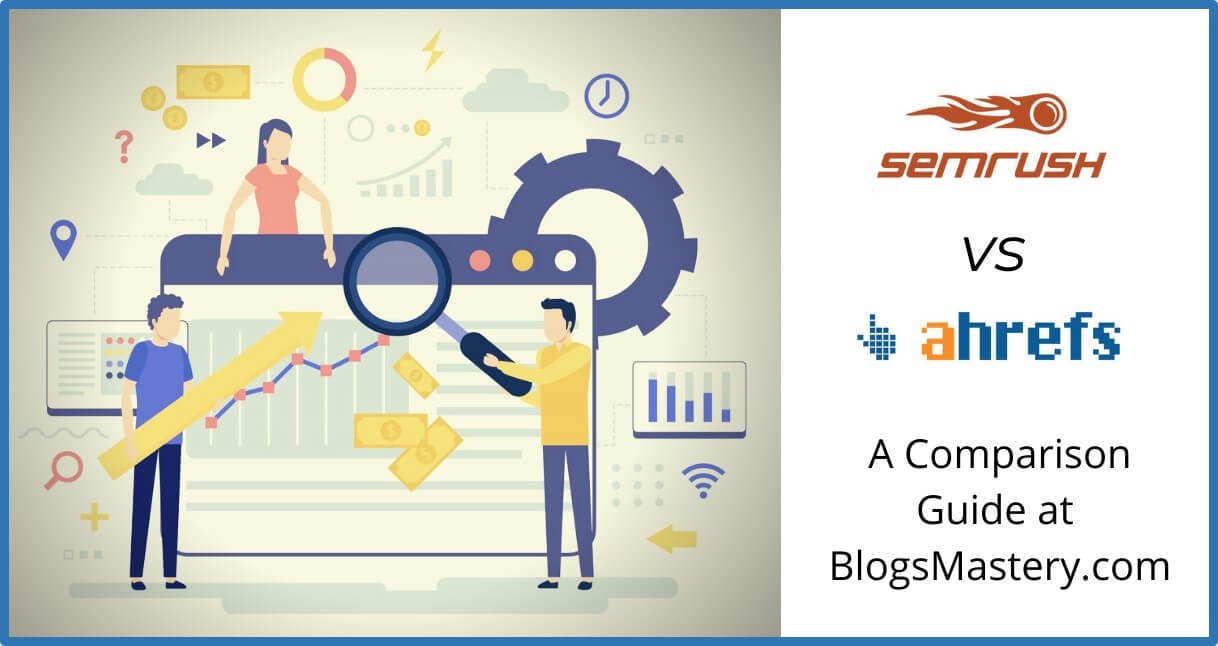 All the online businesses want page one visibility for their business keywords in any search engines.
When we talk about search engines, Google is the most explored search engine as compared to Yahoo, Bing, AOL, and Baidu.
Best SEO tools provide valuable data which helps website owners to optimize their business website on search engines in a better way.
The foremost SEO software developers are SEMrush and Ahrefs. They're market leaders when we talk about SEO tools.
Here in this post, we have created a comparison content of Ahrefs and SEMrush SEO tools.
This Ahrefs vs SEMrush 2021 guide from Blogs Mastery will help you to buy the best SEO tool for your business site.
According to our comprehensive research, Semrush is the champion in all aspects as compared to Ahrefs.
According to our analysis, SEMrush is the best SEO tool one can opt for in 2021.
Ahrefs vs SEMrush – Which is the Best SEO Tool In 2021?
Both organizations are working as software as a service or SaaS. They help global businesses, individuals and others who own their online websites to improve their online presence with valuable information and insights.
Ahrefs & SEMrush business type is into online marketing intelligence. Their tool offers solutions for information technology industries with SEO, PPC, content, social media and competitive research.
They serve worldwide any business can visit their official website and opt-in for the required service. Ahrefs and Semrush, both are the trusted link sources from various businesses online. No fraud!
The users who want to use SEO tool can try these tools as freemium products. You can sign up for SEMRush and Ahrefs and get a free 7-day trial. Both the SEO tool companies provide 7 days trial.
Well before buying or using these tools, it is advisable to read this Ahrefs vs SEMrush comparison guide made for you.
Ahrefs vs SEMrush 2021 Comparison Chart
Ahrefs Highlights
=> Keyword research features
=> Keyword competitor analysis
=> Technical SEO tools
=> Keyword Position Tracking
SEMrush Highlights
=> Optimize your content for SEO
=> Analyze competitor
=> PPC campaigns Reverse engineer a site's top traffic sources
=> Analyze log files
Both the SEO tools do a good job in Keyword research, competitors backlink analysis and technical search engine optimization. They keep adding new features to their tool so it is always good to buy the latest version of the respective tool.
The premium package of both SEO tools is inclusive of tons of research features. It is the best for business, SEO specialists, and other individuals who make money through their informational websites.
Mainly the SEO tool price depends on the variety of features they provide. We recommend you to buy SEMrush as it gives a great value for money invested in the tool and they allow more features as compared to Ahrefs.
The Most User-friendly SEO Tool
The most user-friendly SEO tool in the industry is SEMRush as compared to Ahrefs. SEMrush is easy to use, web-based marketing tool.
No matter you're a digital marketing agency owner or an SEO service provider you can easily manage the SEMrush tool. Yet, a website master or SEO team can work freely with the Ahrefs SEO tool.
SEMrush has more comprehensive output data and its very easy to understand those data. Anyone can learn SEMRush by himself.
There are various helpful tutorials and guides available online for SEMRush and Ahrefs. One can simply follow these guides and use the SEO tool confidently.
The hero is Semrush for the user-friendly SEO tool.
Best Tool for PPC – Ahrefs or SEMRush
PPC stands for Pay-per-click marketing. It is one of the advertising campaigns in which sponsors pay a fee each time their ads is clicked.
SEMrush provides more tools and data to optimize a PPC camping than Ahrefs PPC tool.
You can view real-time PPC numbers in SEMrush whereas Ahrefs provides past data.
This real-time data help you to design a PPC campaign by doing the important things which matter for your business goal success.
What type of paid keywords are being used, landing page URLs and ad copies your competition is using you can get it no time with SEMRush.
So if you want to stay ahead of your competition and want to take your PPC campaigns to the next level and achieve the desired marketing objectives you must sign up for SEMrush now!
Generating SEO Reports – Your Website or Competition Website
Data is something which helps business to take the right decision for their marketing campaigns. If we get the latest reports and data numbers of our website domain and our competition's domain then we can actually better our SEO and PPC effort to achieve the desired results.
You can generate reports from both the SEO tools but there is a limit with the numbers of downloads.
SEMRush is value for money when it comes to generating reports from SEO tool. They allow you to generate reports 10,000 times with their $399 plan whereas in the same cost Ahrefs offer only 1400 reports. This is per day data.
So if you are someone who does a lot of competition research and wants to check thousands of domains data then SEMRush is the tool for you.
Keyword Search – Long, Short, Conversational, Transactional & More
A business website which is keyword optimized and serves the intent of the user appears on the top of Google, Bing or any search engine.
Before we place keywords on our website we must do proper keyword research and pick the best set of a long tail, short tail, conversational and transactional keywords. But how do we gonna find that?
Well, SEMRush and Ahrefs, both have keyword research feature can help you with your business keyword research task.
We have noticed that SEMrush has more advanced tools (keyword magic) for keyword research as compared to Ahrefs keyword research tool.
Keyword magic tool and keyword analytics features by SEMrush do a great job when it comes to doing various types of keyword research.
Opting for SEMrush will surely solve all your challenges related to finding the best set of keywords for your business. So what are you waiting for? Go for this Keyword friendly SEO tool.
Backlink Analysis Tool
Backlinks checker tools are used to find out who links to our website and our competition website.
Both SEO tools can help you with the backlink analysis report for your website or any other website.
Ahrefs reveals you the perfect data of followed vs no-followed links for any website. You can analyze the type of weblinks, anchor texts to understand how your competitors are working on their backlink strategy.
You can try the free version of Ahrefs backlink checker by clicking here –
https://ahrefs.com/backlink-checker
and take a glimpse of Ahrefs backlink checker tool. Refer to image.
You can check top 100 backlinks, top 5 anchor text and top 5 pages for any website for free. For analysing backlinks, Ahrefs SEO too is recommended.
SEMrush has Backlink Analytics as their backlink checker tool which also helps you study your opponents backlink profiles with a comparison table by which you can check multiple domains side by side.
SEMrush collects backlinks data daily and adds them to their database which gives fresh data. The frequency of the updates is every two weeks.
SEMrush is much advanced due to the way its backlink tool works. Today, various marketing professional across the globe are doing a better job with the SEMrush backlink analysis tool.
These features have helped many online business owners to improve their websites backlink profiles using the most relevant backlinks. Take a look to SEMrush Backlink Audit Tool on a click.
Projects Management Comparision
Another important thing one should consider is the number of projects we can create while opting for the paid SEO suits.
The paid version of Ahrefs and SEMrush allows you to do some projects as per the product pricing on their website.
In standard plan, Ahrefs allows you to create a maximum of 10 projects whereas SEMrush offers 15 projects.
There are additional charges in Ahrefs to add more than 10 projects, they charge per-project basis.
If you go for SEMrush business plan, it allows you to create up to 25 projects and there is no additional charge to this. Check now with a click.
Competitor Analysis Review – Important & Crucial Part.
The most and important and crucial part for any online business is competitor analysis which we forget most of the time.
SEMrush suits have more analysis options that are purely made for getting the right and helpful information from the competition which helps to understand what's right or wrong with your online business.
Your website gets matched through SEMrush with your data points, but there's also a probability of getting the content recommendations that your competitors use.
There are challenges at Ahrefs end in this area. So we recommend you to rely on SEMrush competitor analysis tool.
What is the Add-On (We Love Little Extra)
One thing we find which is a helpful add on by SEMrush. As we discussed how important the competition analysis is and what extra these SEO suits offers.
SEMrush is giving much competitive intelligence data as compared to Ahrefs tools. This helps big time as you get a host of suggestions while making your campaign strategy.
This comes with an extra cost of $200 or more but it's worth spending little extra to get extra.
You get 5 intelligence tools when you opt for this and those are as follow.
Market Explorer
Traffic Analytics
Competitor Benchmarking
Bulk Traffic Analysis
Top Web Pages
If you want to compete in this aggressive digital marketing world you need to take help of this intelligence feature from SEMrush. It is a great value for paying a price monthly.
After-Sale Support Which is the best (SEMRush or Ahrefs)
Customer support is most important when you are paying for any service online whether its SEO tools or website hosting.
It is always recommended to choose the SaaS service online by checking the multiple support options.
Support is required as we might get stuck with the tool or to take assistance when we have any query or doubt about the feature.
SEMrush extends its support with multiple options like chat support, phone support, and e-mail support. Whereas Ahrefs offers only chat support.
So SEMrush wins as it has 2 extra support options as compare to its competition.
Inhouse Team
Ahrefs is made by a small team who has a great passion for technology and SEO whereas SEMRush is a large global team of more than eight hundred working professionals around the world.
SEMRush as a business is way bigger as compared to Ahrefs. So it seems to be a committed SaaS provider with a large number of employees working for the company.
SEO Tool Pricing, Which is better?
Anyone can try the Ahrefs SEO tool for a 7-day trial but you need to spend $7 to use Ahrefs for 7 days. Whereas, the SEMrush SEO tool is completely free for 7-days. You can also get a 14-days or 30-days trial by using trusted website links.
Ahrefs offers 4 pricing models as per their website. They have four plans. Lite at USD 99, Standard plan at USD 179, Advanced plan at USD 399, and Agency plan at USD 999. These are monthly plans, they also offer annual plans where you can get 2 months free if you pay for annually at once.
Below is the Ahrefs price chart for your quick reference.
SEMrush SEO tool offers 3 pricing model as per their website. Monthly and Annually. Below is the SEMrush price chart for monthly.
1) SEMrush Pro for $99.95
2) SEMrush Guru for $199.95
3) SEMrush Business for $399.95
Conclusion For Ahrefs vs SEMrush SEO Tool Post:
So this is our comparison guide to help you choose the best SEO tool from SEMrush and Ahrefs.
Both are amazing tools but we recommend SEMrush because it offers lots of amazing features which we don't find in other SEO tools.
If you focus on building backlinks, Ahrefs is the more suitable option to go for. Also, it provides more data on non-traditional search engines like Youtube and other relevant websites.
If your focus is on keyword research and competition analysis, SEMrush is more powerful than other SEO tools in the market.
This one tool can do most of your website research and competition analysis tasks with ease whereas in other tools we find few options and for few reports, you need to go to another tool.
Semrush is highly preferred in all aspects. So do let us know which one is your favourite SEO tool in 2021. Is it #SEMrush or #Ahrefs, Comment now!
Selecting between Semrush and Similarweb? We're honest, we want to do our best to provide you with the data required to make a confident decision with our latest post on Semrush vs Similarweb. Just follow the link and decide on your own.