Looking to save on your favourite software which is listed on AppSumo? Black Friday 2022 big discount sale is the perfect time to save on AppSumo.
Black Friday is the busiest time of the year for online shopping. You need to make sure you have the list ready of your favourite software to steal the deal.
Every year, AppSumo offers great savings on the newest and hottest startup during the holidays.
So today in this post, I am looking at some of the best AppSumo deals that are currently on.
Appsumo Black Friday: You can visit this page to find out all the latest Black Friday Appsumo deals starting from November 20 to November 29, 2022!
But before that, let me tell you why AppSumo is the best place to shop on Cyber Monday and Black Friday.
Why Appsumo is a great place to find Black Friday Deals
AppSumo is a great opportunity for buyers on Black Friday & Cyber Monday. Learn more about the benefits to buyers.
Biggest Deals of the Year
On Black Friday and Cyber Monday, AppSumo deals get even better for one time of the year. I can assure you that you won't find a better price, but I can't promise that you will find your favourite tools for 5 or 10 bucks.
Quality Software Products
Appsumo believes in providing its customers with quality software products that solve real problems and make their lives better.
The AppSumo team members pick 10 to 15 deals that achieved the most success on their platform and bring them a second chance for those who missed it.
Giveaways & Coupons
AppSumo is known for its promotion coupons, especially after Black Friday 19. And I believe that they will take it to a new level this year.
After learning why AppSumo should be your first stop on Black Friday, let's take a look at some of the most exciting AppSumo deals live right now.
Top 5 Best AppSumo Black Friday Deals 2022
AppSumo Black Friday deals with high ratings and reviews could be the live ace of the special deals right now. Check out the top 5 software at discounted prices.
Smart Quiz Builder allows you to build attractively designed quiz funnels to generate leads, segment your audience, and suggest the right products and resources to prospects.
Important Features of Smart Quiz Builder:
Quiz Types Supported: Personality, Assessments, Scoring, Survey & Calculator
Question Types Supported: Single & Multiple Choice, Open-Ended Text, Fill-in-the-blank, Rating Scale & more
Email Platform Integrations: AWeber, ActiveCampaign, ConvertKit, Drip & 7 more
Marketing Platform Integrations: Zapier, Pabbly Connect & Integrately
Advanced customizer
Cool animations
Detailed analytics and reports
Social share buttons
Student and admin email notifications
Category-level calculations
Mobile-view customizer
Pre-built quizzes
Timed quizzes
Smart Quiz Builder AppSumo Pricing:
There are three plans to choose from: Single $59, Double $118 and Multiple for $177.
TruConversion is a powerful funnel tracking tool. It offers an optimization solution that includes heatmaps, session recordings, and form analytics to help you craft your best marketing strategies.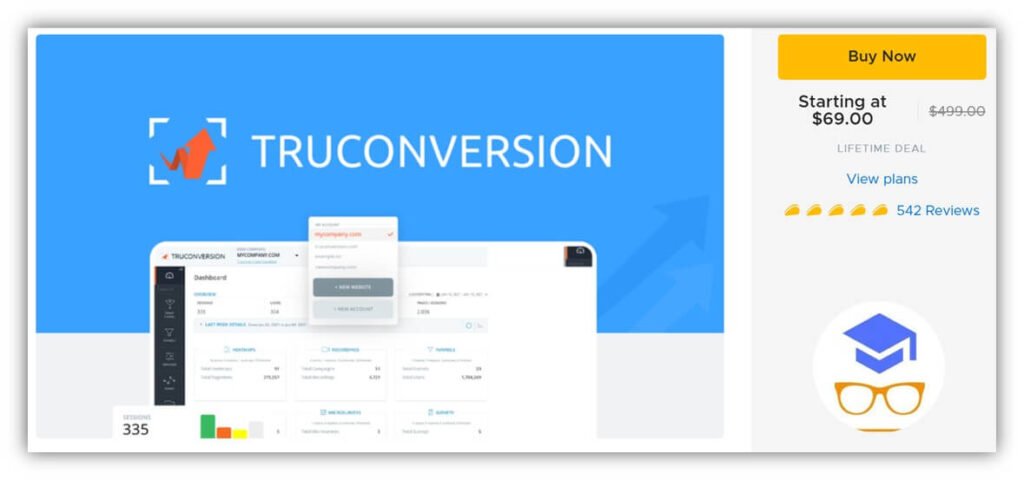 Important Features of TruConversion:
Simple & Easy Funnel tracking software
It offers advanced page targeting
Advanced filiters to get the specific data
One click share button
You can manage multiple domains
It can trigger recordings by events
It offers flexible survey trigger options
Tru Conversion AppSumo Pricing:
TruConversion offers three pricing plans on AppSumo. Basic starts at $69, Plus at $119 and Pro at $279.
Rytr is an AI copywriting tool that helps you generate fresh and highly engaging content for blogs, social media, emails, and more. You can create content in over 30 different languages with multiple tone choices.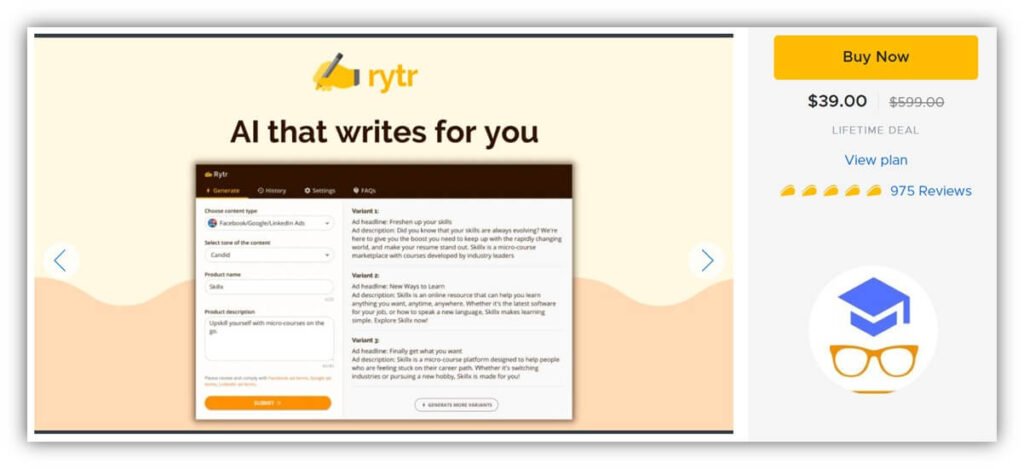 Important Features of Rytr:
It offers 25+ content templates that you can use to write impactful content
You can create content in 30+ languages
Discover content ideas, Blog headlines, Sales emails and even you can write a story plot using Rytr
It allows you to write 50,000 characters per month
It offers 20+ tones of writing that you can use as per your copy requirement
Access to premium community
Access to all future updates and features included in this lifetime deal
Rytr Pricing AppSumo:
Rytr offers a lifetime deal at $39 with all the future updates. You can write up to 50,000 characters per month using this deal. Also AppSumo offers a 60-day money-back guarantee, which makes this purchase risk-free.
Simplified is a collaborative design and AI writing platform that helps you create content, design creative images, videos, and more from one online tool.
Important Features of Simplified:
AI-powered design editor & content writing tool
Access to a tons of free icons, photos, graphics, and more
You can e

xport images (PNG, JPG & SVG)

You can upload your assets, brand kits with unlimited folders.
It supports 10+ languages
Video editing and animation
You can create up to 5-minute video duration
It offers unlimited video exports
Team templates and components
It can connect with: Google Drive, Unsplash, Pixabay, Pexels, Brandfetch, and Storyblocks
Access to premium members community
Access to all future updates & features
Simplified Pricing:
Simplified offers three pricing plans on Appsumo. Licence Tier 1 ($79), Licence Tier 2 ($159) and Licence Tier 3 ($299). All the plans come with future plan updates.
Crove App is an online document generator that allows you to automate the creation of repetitive business documents.
Important Features of Crove:
It offers unlimited template creation
All the documents support eSign
API and webhooks
Library of 100+ templates
It supports 160+ different languages
It allows Zapier integration
Crove Appsumo Pricing:
There are three pricing plans to choose from Single lifetime plan $79, Double $158 and Multiple for $237.
FAQ: Appsumo Black Friday Sale 2022
When is AppSumo Black Friday?
AppSumo Black Friday event will run from 5 p.m. CST on Nov 20, 2022, through noon CST on Nov 29, 2022. Save the date!
Are there any special deals? Which deals are featured?
Of course! Look forward to exciting new deals, discounts, freebies, and more! The lineup is under wraps for now, but sign up to be the first to know when we drop the details.
Is there a giveaway? What can I win?
Yes, there is a giveaway. Creators now's your chance to be a part of the leading marketplace for entrepreneurs during Black Friday which is the biggest sales and traffic event of the year.
Appsumo is giving away $10K to 10 digital creators like you—all you have to do is a list on AppSumo and opt-in to participate in their Black Friday sale.
What's in it for Appsumo Plus and Briefcase members?
If you are a Plus or Briefcase member, you will receive exclusive Extended Access from 12:05 p.m. CST on November 29, 2022, through noon CST on December 2, 2022. As always, you can use your 10% discount on all the Black Friday deals. (Not a Plus or Briefcase member? Now might be a great time to join!)
Conclusion: AppSumo Black Friday Sale 2022
If you have been waiting for the best deals on your favourite software then this is the right time to visit Appsumo and buy the tool.
I have created a list of some of the best AppSumo Black Friday deals that you can consider in 2022.
All the deals listed here on Appsumo are great picks for software lovers.
With these AppSumo Black Friday & Cyber Monday deals, you can grow your business and attract more clients.
Remember, the deals and discounts are only for a limited time. So get them as soon as possible.