Ready to start a brand new blog or website in 2021?
Finding and acquiring the right domain name is the important first step to launch your website.
With so many different domain names out there, it can be hard to find the right one for your new website.
Luckily, you don't have to pay for a new domain name; I've got step by step guide that will help you get a domain name for free using Bluehost.
Let's understand how you can get a free domain.
Are you ready to get a free domain name using Bluehost? Say Yes, No or whatever you feel in the comment section below.
Before that…
Affiliate Disclosure: This content is reader-supported, BlogsMastery.com contains affiliate links and We may earn a commission if you buy a product or service through these affiliate links without costing anything extra to you. Read our FTC Disclosure.
This post has been included as an entry into a giveaway.
Let's dive in to win a free domain.
How to Get a Domain Name for Free Using Bluehost
Bluehost is a web hosting company that has been powering millions of websites since 1996.
The Bluehost team is always working hard to make your site faster, more secure, and equipped with the latest technology.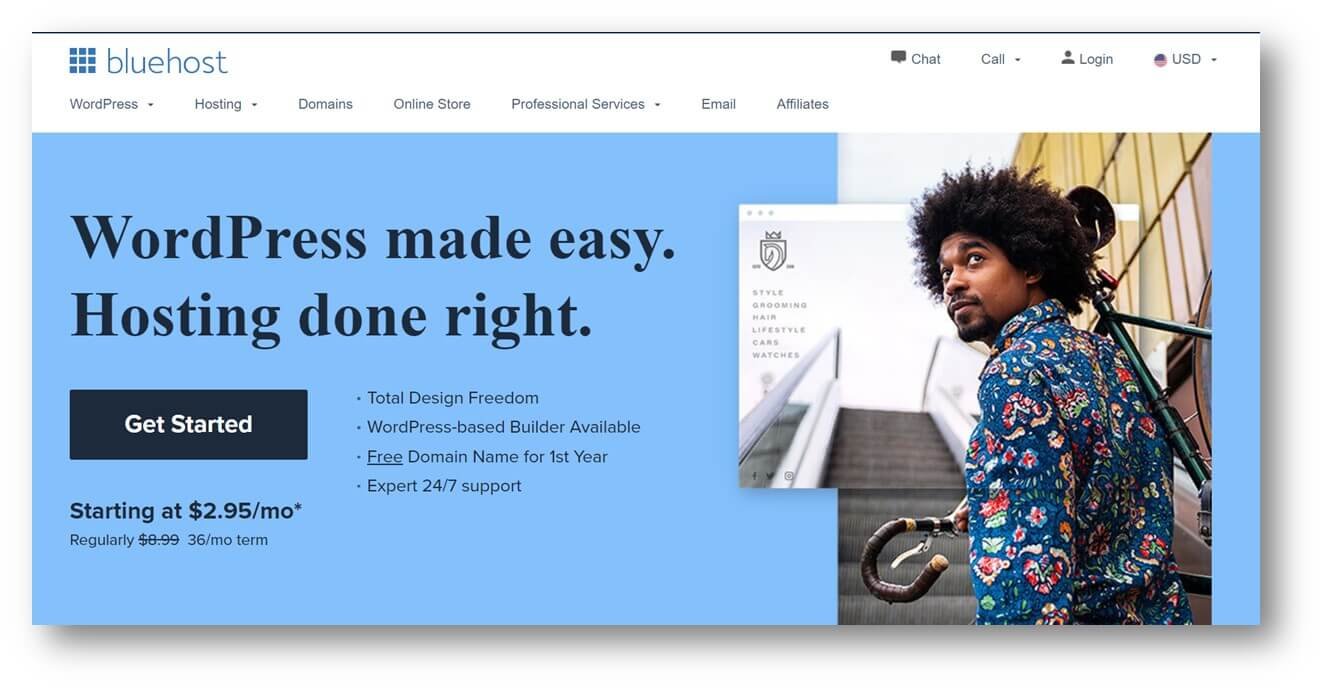 7 Steps Guide to Get a Free Domain with Bluehost
Here are the easy seven steps to follow in order to claim a free domain name using Bluehost web hosting company.
Please follow them.
The first step you need to follow is simply to go on the Bluehost website. When you reach there, you'll find several different options on the menu bar.
One of those options says, "Domains", Do not visit that page.
If you click on "Domains", you won't get a free domain. Instead, you have to click on the "Hosting" menu option. Stay there and follow the second step.
Step 2: Choose Hosting Type
Bluehost offers 3 different types of web hosting plans to choose from:
Shared Hosting: You're a small business looking to get your website online with an affordable package.
Shared Hosting packages offer the perfect opportunity for you because they make it possible for multiple users to share space on servers, which is much more cost-effective than having one server all set up just for yourself!
Bluehost offers great deals and features that are sure to help any aspiring entrepreneur take their company from zero-to-hero in no time at all.
Bluehost's Birthday Blowout Sale 2021 is Live: Save More than 65% Off on Shared Hosting Plan, Claim Deal Now!
VPS Virtual Private Server Hosting: VPS hosting provides the perfect solution for those who are not able to afford a dedicated server.
It allows you to have your own virtual private space on one of the Bluehost servers, complete with dedicated resources such as RAM and CPU!
Dedicated Hosting: Dedicated hosting is the most resourceful and private way to operate a website online.
With this service, you have access to all resources and are in complete control over your site's privacy settings.
Dedicated servers are isolated from one another, so you will have full access to your server without affecting other users or being affected by them.
All these plans come with a free domain name for one year.
When you're using your website to start your online business journey, shared hosting is the best option.
Shared hosting is a good fit when it comes to running a personal or small-scale company website because of its low cost and scope.
The other web hosting types are expensive and provide features you likely won't need at this moment.
I'll suggest you choose Bluehost shared hosting plan. However, if you need other hosting plans, you can go ahead with them as well.
You get a free domain name with any Bluehost plan you choose, so don't worry about the free domain.
Step 3: Choose Web Hosting Plan
Now you need to choose a hosting plan for your website.
Bluehost offers four different plans under the shared hosting option. Here's an image of different options to choose from along with different price points for each of those plans.
4 Bluehost Shared Plans with Offerings:
Learn what each plan has to offer considering the price point.
1. Basic Shared Hosting Plan
Host one website with 50 GB of storage
Unmetered bandwidth
Free SSL certificate
Five parked domains and 25 subdomains
2. Plus Shared Hosting Plan
Host unlimited websites with unlimited storage
Unlimited domains, parked domains, and subdomains
Spam experts
Office 365 Mailbox free for 30 days
3. Choice Plus Sharing Hosting Plan
Unlimited websites and unlimited storage
Domain Privacy and protection
Site Backup – CodeGuard Basic
4. Pro Shared Hosting Plan
Unlimited sites and storage
2 Spam experts from Bluehost team
High performance
Dedicated IP
Go for the Choice Plus plan if you are visionary and good to scale your online business in the next six months. My good wishes are with you.
My second recommendation is The Basic plan.
It's more than enough for a beginner. Also, you can always upgrade to another plan when your website grows.
Check out our full Bluehost web hosting review for more detailed information about each plan has to offer.
And the most important part, you'll get a domain for free for one year whichever plan shared hosting plan you choose.
Step 4: Select a Domain Name of Your Choice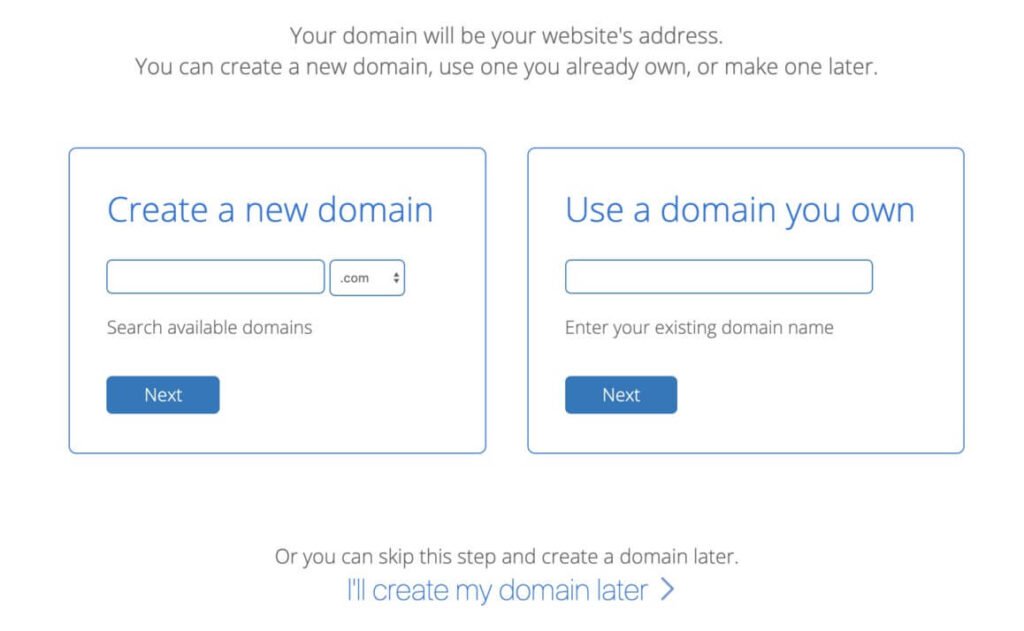 Your domain name helps your readers find your website online and makes the first impression.
Make sure you choose the domain that represents your website perfectly.
Enter the name you have in your mind below and see whether the domain name is available or not.
If the domain name of your choice is available, I recommend you book it right away as you don't want to lose it at a later stage. I am saying this as I have lost a very cool domain name when I was just starting out with my online journey.
Step 5: Create Your Bluehost Account
Step 6: Choose Billing Terms
Now time to pick your hosting plan.
Bluehost offers web hosting for 12, 24, and 36-month deals. Each plan price differs based on the length of the period.
Below are the price details for the entry-level Bluehost plan:
Basic Plan for 12 months – $4.95 per month ($59.40 total)
Basic Plan for 24 months – $3.95 per month ($94.80 total)
Basic Plan for 36 months – $2.95 per month ($106.20 total)
These offer prices are valid for your first purchase only. Bluehost Basic renews at $8.99 per month.
The 36-month plan gives you the best deal where total savings is $217.44 (67% off) and you worry less about hosting services for 3 years.
The free domain is valid for 1 year that you need to renew every year.
Step 7: Add Add-ons & Check Out
You can also consider the extras features that might be just right for you.
I recommend including domain privacy and protection. Domain privacy and protection is an important issue for every person.
Without it, the details of your domain will be on a public database that anyone can access!
This includes all your personal information such as name, phone number, mailing address and email address so spammers have no problem finding you too without any special tools.
Bluehost offers a 30-day money-back guarantee because they are confident that you will not want to change your mind after trying their hosting service.
Frequently Asked Questions Related to Free Domain Using Bluehost
Does Bluehost offer a free domain?
Every new Bluehost contract includes a free domain name registration or you can also transfer your domain name to Bluehost for one year.
Is WordPress free with Bluehost?
Yes. WordPress is free with the purchase of any new Bluehost plan. Easy one-click WordPress installation is covered in all Bluehost plans. The only thing you need is a Bluehost account to get your website live, Go on Bluehost and create your account now!
Which domain registrar is best in 2021?
According to the Blogs Mastery team, these are the top 5 domain registrars you can consider buying your new domain name in 2021.
How to get a free domain from Bluehost?
When you sign up for a Bluehost hosting plan, you will be awarded a Free Domain by Bluehost. To find the best possible deal and to claim a free domain along the signup process you can follow this guide and use the Bluehost Coupon Code from this link.
Have more questions about domains? Please comment below and I will help you out.